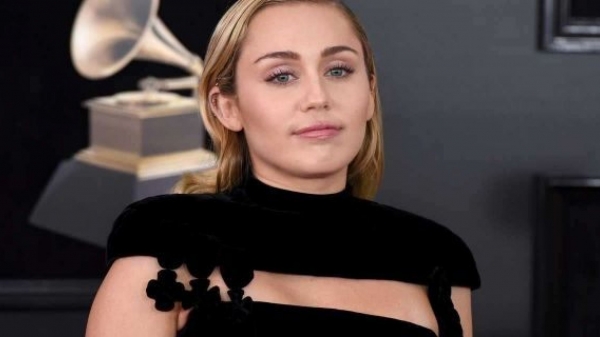 Miley Cyrus is opening us about the heartbreak of losing her Malibu home with fiance Liam Hemsworth.
The hit-making singer was on Ryan Seacrest's radio show on Tuesday where she opened up about the situation, explaining that she is moving forward with optimism.
"I'm in a really good healing place right now," she explained.
"I definitely learned a lot. My dad [Billy Ray Cyrus] has always told me, 'Life is a series of adjustments,' and sometimes we never understand what our parents are telling us until we start to experience life more… I'm starting to really understand what that means now experiencing something as life-changing and devastating as a natural disaster. It's a really deep character challenge to see the way you react to loss." 
The 26-year-old pop star explained that she's choosing to make the most of these trying circumstances, which have forced her and Hemsworth to start over.
"I had a choice of post-traumatic stress or post-traumatic growth and I think you always feel you don't have control, especially when something happens that's a natural disaster because there's no beating nature," she said. "So to be able to go into your self and to find that growth and say, 'What am I going to do about this?' And being an active member of my community, not as a celebrity figure, but just as a neighbor, has been a big growing experience." 
The "Nothing Breaks Like a Heart" singer also mentioned a particularly poignant image, posted by Hemsworth on Nov. 13, which showcases the stone letters L-O-V-E lying in the remains of her former home and what the image means to her.
Jenna Johnson Explains Why She Can't Wait to Become Mrs. Val Chmerkovskiy (Exclusive)
"Liam posted on his social these love letters that were physically left at our house," she said.
"We had these big gorgeous letters that said 'love' when you drove up to our house and they actually made it through the fire… and that's literally and physically all that's left so I felt that was really poetic. You can always rebuild a physical structure, but that love that can't be destroyed is always there and always stayed strong. So that gave me a lot of light during a dark time."
"It's been a heartbreaking few days. This is what's left of my house. Love," Hemsworth wrote alongside the aforementioned photo.
Live-Action 'Detective Pikachu' Movie: Are We Okay With This?
"Many people in Malibu and surrounding areas in California have lost their homes also and my heart goes out to everyone who was affected by these fires," he continued.
"I spent the day in Malibu yesterday and it was amazing to see the community pulling together to help each other out in any way they can. Malibu is a strong community and this event is only going to make it stronger."
Beyonce Sweetly Sings Happy Birthday to JAY-Z in South Africa
Everyone from Gerard Butler to Robin Thicke to Camille Grammer have shared that they are now forced to rebuild following the sweeping blaze.