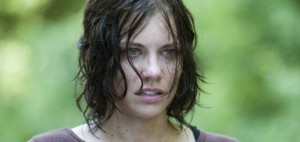 (Spoilers ahead for the Nov. 18 episode of "The Walking Dead" on AMC)
Maggie (Lauren Cohan) is gone, but she's not dead. This week's episode of "The Walking Dead" revealed that she left the Hilltop with the mysterious Georgie during the big time jump that came at the end of Rick Grimes' final episode.
And it turns out that may have also been Maggie's final episode. Clearly, the creatives on the show and the folks at AMC are hedging their bets by not killing her off. But it's entirely possible she'll never appear on "The Walking Dead" ever again.
We had heard rumblings of Cohan's exit from the series all year, following stories of a contentious contract dispute in which Cohan wanted equal pay with other longtime series regulars Andrew Lincoln and Norman Reedus. After signing on to ABC's "Whiskey Cavalier," which will debut mid-season, Cohan did say she would be able to come back to "The Walking Dead" for at least part of Season 9.
Also Read: 'Walking Dead': Everything We Know, and Think We Know, About Georgie
But it looks like that part of the season is now over, as "TWD" showrunner Angela Kang has confirmed that they don't have plans for her to appear again in Season 9.
This all probably feels like it's coming totally out of left field, considering how Maggie did not get any kind of real sendoff. Her final (as far as we know) episode also being Rick's last didn't help, since the episode basically functioned as Rick's death episode.
But what AMC is doing with Rick may also be the path for wrapping up Maggie's story. Two weeks ago, at the end of their final episode, Rick ended up being airlifted by helicopter away from Virginia, and what happens to him wherever he ends up will be the subject of a series of movies.
Also Read: Here's What You Need to Know About That Talking Zombie on 'The Walking Dead'
Meanwhile, it's long been theorized that the helicopter belongs to the same group that Georgie hails from — the Commonwealth, an actual large city of people in Ohio. If that theory pans out, and Georgie's people are also the helicopter's people, then there's plenty of reason for Rick and Maggie to cross paths in this new corner of the "Walking Dead" universe.
But everything remains shrouded in mystery, and it sounds like nobody involved actually knows at this time what Maggie's fate will end up being. If Georgie actually is with the Commonwealth, then the subject of Maggie is going to have to come up again sooner or later — the Commonwealth is the next big storyline in the comics after the Whisperer War that is about to begin on the show.
Also Read: Apocalypse Not Yet? First 'Walking Dead' Without Andrew Lincoln Sees Steady Ratings
So, at least, you probably shouldn't expect a Heath (Corey Hawkins) situation — remember how he went out scavenging with Tara and then just never came back, his fate still undetermined? Maggie is so important that her fate will have to be dealt with at some point in the next couple seasons of "The Walking Dead," even if Lauren Cohan never comes back.
Just don't expect closure any time soon.