University City, Missouri, an inner ring suburb of St. Louis, is proposing a publicly financed redevelopment deal that will affect more than 22 businesses and at least 77 homes. The strip of Olive Boulevard marked for redevelopment is unofficially known as its Chinatown, but the minority-owned businesses represent a diverse array of backgrounds.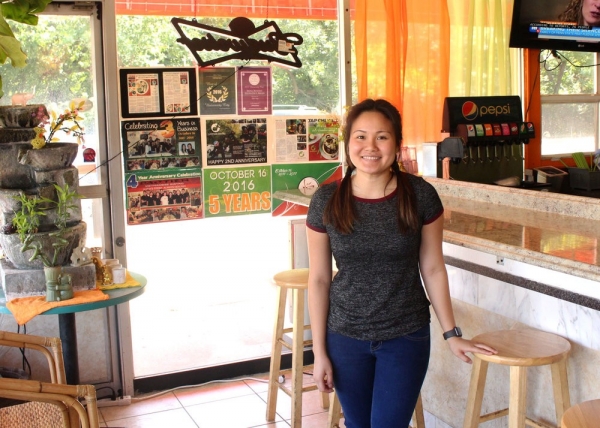 The redevelopment proposal consists of three map areas and multiple phases, all falling mainly in the city's 3rd Ward. The RPA1 district proposal by developer Novus has been approved by the city's TIF (Tax Increment Financing) commission. Businesses in this redevelopment path include ethnic food restaurants, specialty grocery stores, and two centers of worship.
The proposal is built on attracting an anchor business, a big box store that has been all but confirmed to be a Costco. The anchor is intended to be the first area of development that will eventually lead to the recruitment of several smaller big box retailers. In later phases, the project is meant to include hospitality, luxury apartments, and a senior living facility. The plan includes sizable parking facilities, with many existing businesses being cleared for parking alone.
Dao Tien is a family owned Vietnamese restaurant in the path of the redevelopment plans. Amy Dinh's family owns the restaurant and she spoke about her family's reaction to the possibility of relocation. Dinh said her mother is the primary owner and right now, "She's a little bit sad." Dao Tien opened in October of 2011 and was the family's first restaurant. At 11:30 a.m. on a Tuesday, they are already bustling and the parking lot they share with Tai Ke is full. They are in the process of opening a second location, but the building on Olive "is like our home," says Dinh. No matter what happens with the redevelopment efforts, the family restaurant plans to stay in the neighborhood.
Carl Walker, owner of Klippers Barber Salon in Jeffrey Plaza, has already made plans to relocate. "I worked out another lease in Overland," said the barber. Overland is a neighboring municipality just to the northwest of University City. He said he doesn't have any hard feelings toward the project. "What they're doing is just business. I run a business, so I get it."
Klippers has been open for just four years, but Walker has deep roots in the area. "I grew up in U City. I went to school in U City," he says. Even though he is not taking the deal personally, he said he does feel for the people with fewer options to relocate.
A few businesses down in the plaza is East Seoul Oriental Groceries owned by DJ Lee. "They've been talking about it for a year… but they still have steps to go," said Lee. He wanted them to remind people that it is not a done deal yet. He said when his many worried customers come in to ask him about it, "I don't have an answer." Lee plans to stay unless something happens. He added, "But if it does happen, I want it to happen fast… I don't want to sit here and wait."
Beyers Hardware and Lumber is yet another small business in the path of the proposal's redevelopment district, located just off of I-170 on Olive. Owner Ed Beyers says the deal is "playing havoc with my business." According to its website, it is "One of the last REAL lumberyard and hardware stores." The business has been in operation for more than 60 years, and Beyers doesn't know what he'll do yet if the TIF passes. He says he might possibly try to open another location somewhere new but did not have firm plans.
Beyers has 22 employees, including Dale Wolff, who added his thoughts on the deal in just two words. "It sucks!" said the lumber salesman. He has been with the company over 30 years. Beyers said the uncertainty has been hard on his employees. "They don't know whether to stay or go." A document opposing the TIF sat on the counter in front of the register where we spoke.
For the City Lights Church, Music Director Steve Oros says, "Our feelings have changed over the last couple weeks." The church has been its location for 10 years, but they had considered relocating in the past. For them, this deal made the decision easy. Details like relocation assistance and houses being paid over market value helped assuage their reservations about the project. Oros said he often eats out at local businesses like Tai Ke and Dao Tien and cares about those "mom and pop businesses."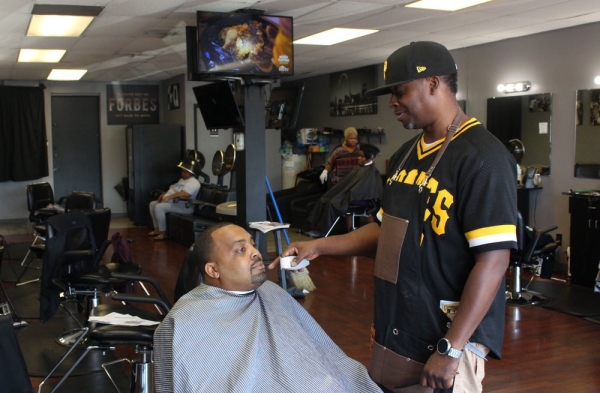 The deal does include a relocation assistance plan. Homeowners may receive incentives on top of the market value of their homes, depending on where they move. Other assistance is approved on a case by case basis by the city. For businesses, property owners may also work out deals with the developer or receive generous relocation assistance. However, most businesses are renters, limiting their options and capping their assistance at $10,000, regardless of how long they have been in the location.
St. Louis, unlike Chicago and many other cities of its size, no longer has an official Chinatown; this strip of Olive Boulevard is as close as the region gets. That's because the area that was once the heart of the Chinese community was demolished in 1966 for the original Busch Stadium to be built. That Chinatown had been an integral part of downtown since the late 1860s.
This history of displaced Chinese immigrants in the region is not lost on the citizens of University City. One citizen who spoke at a public hearing made a note to a councilwoman over her comments about immigrants in the community, "You called them a population, while you call your white constituents a community. I don't understand that."
The city has more than just accusations of displacing an immigrant community on its hands. Missouri State Auditor General Nicole Galloway is investigating allegations of Sunshine Law violations on the part of the city during the process of the deal. One report claims the commission was not provided with an analysis performed by Jonathan Ferry of St. Louis Development Corporation. Another complaint is due to the lack of information and the exclusivity of the public hearings. According to Patch, public meetings were held in a venue too small to accommodate those who wished to attend.
Caroline Fan, a community leader, confirmed she saw more than 100 people turned away at a meeting due to fire concerns. Fan took time to personally speak to many of the business owners in May when she learned about the project and found that few knew anything about it. She claimed the letters business owners gave her were not clear and were sent from the Chamber of Commerce, rather than the city. "…And definitely not in their preferred language," Fan said.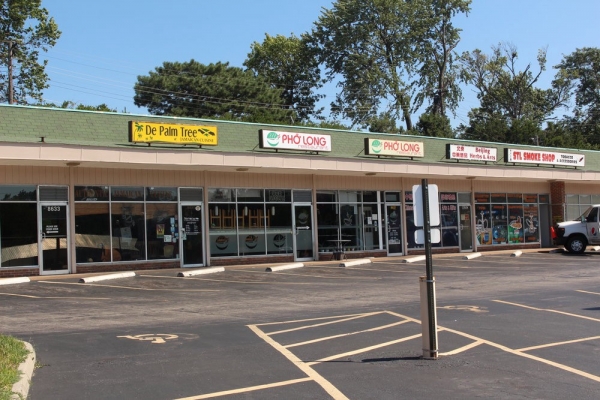 Many business owners I spoke to claimed to have been alerted between two to three months ago, although some had received notice beforehand.
"I don't know if U City knows what it has…. Many of these shops have been here for over 10 years. Why would they give this land to outside developers over homegrown small business?" she asked.
To qualify for a TIF, the city must establish that the area is blighted. Surprisingly, the city cited a lack of bike lanes as evidence that Olive Boulevard was a good candidate for demolition. A greenway is in the "TBD" portion of a description of potential developments by the company Novus. It's true that this section of Olive Boulevard is an unpleasant five lane stroad with few features to calm traffic. Yet it seems ironic for the city to point to its own lack of investment in bicycle and pedestrian infrastructure as evidence to approve the removal of thriving businesses.
A series of seven photos were also shown at the meeting to prove blight, including a piece of broken sidewalk and an older apartment building.
Novus, the developer who is being invited to take up the project, is no stranger to this type of development. It has constructed new strip malls in several nearby St. Louis suburbs. But it was a failed project in Sunset Hills that inspired a critical op-ed in St. Louis Business Journal.
This quote from the proposal also raised eyebrows at the motivation.
As a major entryway to the City, the Site and area significantly impact the City's image and represent a critical redevelopment opportunity.
University City's concern with appearance, as evidenced in this one line of the proposal, has the city ready to throw $70 million in TIF at a big box store at the expense of its home-grown business leaders and citizens. This mirrors the mentality of far too many suburbs on the decline side of the Growth Ponzi Scheme. Big-box retail may provide the short-term illusion of wealth and prosperity, and lure shoppers off Interstate 170. But it is unlikely to result in an area that is stable, distinctive, or wealth-generating in the long run. University City is falling into the trap of overestimating the value of "shiny and new" development and underestimating the value of the assets it already has.
(In a follow-up article, we will dig into the finances of this project and further explain that claim. For now, read our classic case study of how "shiny" automobile-oriented businesses often bring in less financial benefit to a community than older development that may be dismissed as worn and blighted.)
University City would be better served to recognize the assets already present in this small multicultural business community, and make the incremental investments in the area's public infrastructure that are needed to support and strengthen that community.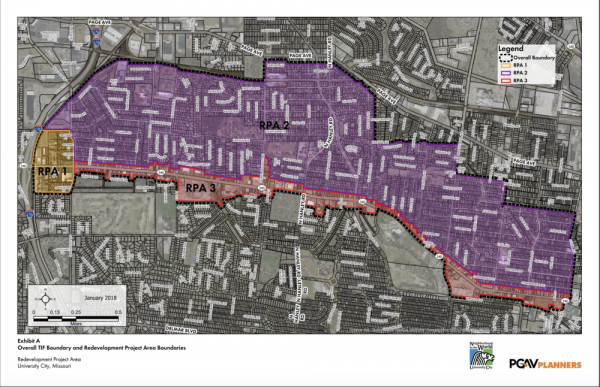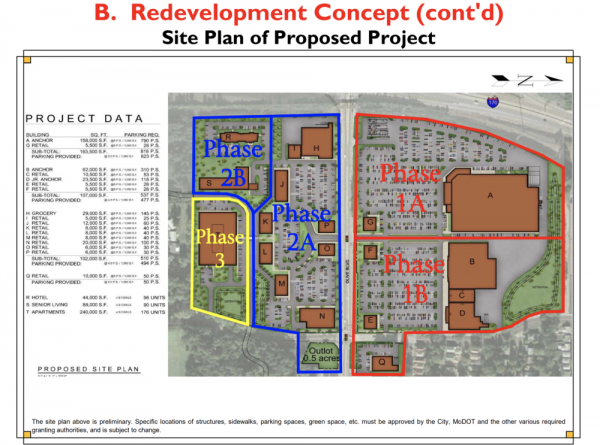 Originally published at www.strongtowns.org.