Isha PatelBlockedUnblockFollowFollowingDec 5

The tight, widely publicized Senate race in Texas between Republican incumbent and winner Ted Cruz and Democratic challenger Congressman Beto O'Rourke was infused with multiple false or unverified social media posts — unbeknownst to many social media users scrolling through their Twitter or Facebook feeds. I investigated the disinformation in this race—including the size and location of rallies, candidate names, and relationship with the migrant caravan—to demonstrate the ease with which false information can spread online and the dangers this presents in regard to big issues, such as a senatorial election.
One example of false information spreading online involves the size of one of Ted Cruz's rallies. Multiple social media accounts, including 'FOX NEWS with Tucker Carlson,' and @Can2geterdone, reported that a rally that Ted Cruz held with Donald Trump in Houston had a full audience, with 60,000+ people listening from outside. The following photos depicting a packed stadium and massive standing audience were circulated widely: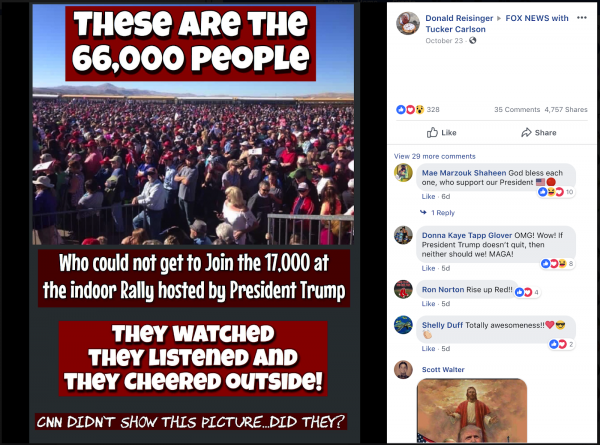 However, further research suggests these photos may not have been taken in Texas at all. The fact-checking site Snopes found that the information online about a packed stadium with 60,000+ people waiting outside was false.

Out of many discrepancies, Snopes found that the photo shared around Facebook matched more closely to a Trump rally in Montana and the photo comparisons all had extreme exaggerations about the number of attendees; Snopes compared a photo of Milton Keynes Bowl, a concert venue in England with 65,000+ attendees, to the photo shared on Facebook to demonstrate the lack in size of the alleged Cruz rally, whether it actually be a Cruz rally in Houston or a Trump rally in Montana.

While the photos Snopes found from the Montana rally do appear to be similar to the original photograph online, further research proved otherwise; after reverse image searching a zoomed in snapshot of the original photo, I found a series of tweets by @DentzerNews containing photos and videos from a Trump rally in Elko, Nevada. After comparing one such video with the photo, I found some evidence tying the original photo of the crowd to a Trump rally in Nevada as opposed to in Montana.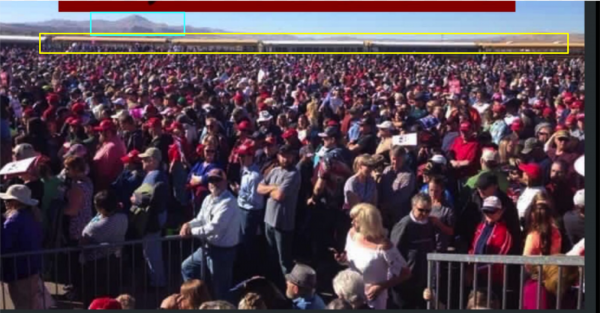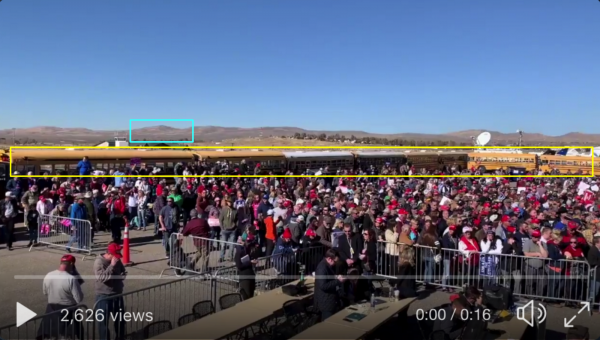 After some examination, it is evident that the mountain range and barricade of school buses in both photos match up. This process of identifying prominent features in landscapes and matching them with corresponding images from a different source — called geolocation — is a common strategy used by open-source investigators verifying social media content. It is by no means foolproof, but can be useful for debunking assumptions about where photos or videos were taken. In this case, whether the photo was taken in Montana, as Snopes proposes, or in Elko, Nevada, as my investigation suggests, it it is evident that this photo of an outdoor rally in a mountainous area is not from the Ted Cruz rally in metropolitan Houston.
While many examples of disinformation are created and shared by random individuals online, sometimes the widely shared statements come directly from candidates themselves. Texans Are PAC, a super-PAC supporting Ted Cruz, quoted him in a September 2018 advertisement claiming that O'Rourke voted "against body armor for Texas sheriffs patrolling the border." After conducting some research, Politifact found this to be completely false, as O'Rourke voted in 2014 in favor of what Texans Are PAC called the "Grayson Amendment," in the advertisement. The amendment was introduced by former Florida Congressman Alan Grayson and was actually about "expenditures toward aircraft, tanks, and weapons provided from the personal property program to local law enforcement" rather than body armor. Following this line of reasoning pinning O'Rourke against law enforcement, Cruz then falsely claimed that O'Rourke called the police "modern-day Jim Crow" during a debate. Accompanying these words straight from candidate Cruz came multiple posts and articles from extreme right-wing sources such as the Daily Wire and Twitter users such as @annigraham "confirming" Cruz's claims, further spreading the disinformation.
One of the biggest and most popular examples of disinformation from Ted Cruz comes from the discussion of Beto O'Rourke's first name. Throughout the campaign season, Ted Cruz has accused O'Rourke of changing his name from his legal name "Robert" to the more traditionally Hispanic name "Beto" to appeal to Latinx voters in Texas. In March of 2018, Cruz tweeted a video advertisement including a jab at O'Rourke and his legal name.
With Cruz's statements widely viewed online, many other social media users including @LoneStarDon have continued the discourse, usually including hateful language directed to O'Rourke about his name and any "lies" his name includes.
Despite the widespread false statement that O'Rourke started going by "Beto" before running for Congress earlier in his career, O'Rourke offered evidence that his nickname came from childhood, posting a photo of himself as a young child wearing a sweater that says "Beto."
Coincidentally, Ted Cruz' accusations got him into some hot water about his own name change from "Rafael" to "Ted" and whether his own nickname had a long history or came to be once he first ran for Senate. According to Twitter user @mviser, Ted Cruz's name in the Harvard Latino Law Review, the Harvard Journal of Law and Public Policy, and the yearbook all either were "Rafael Cruz" or "Rafael 'Ted' Cruz."
While inconclusive on the true extent of Ted Cruz's name change and the intent behind it, it is evident that Cruz's own accusations about O'Rourke's name caused a lot of outrage and tweets from more right-leaning users, attacking O'Rourke for lying despite his claims that "Beto" was a childhood nickname that stuck.
In early November, toward the end of the race, claims from people such as Twitter users @GartrellLinda, @mitchandjen4440, @TheRightMelissa, and Ted Cruz himself accused O'Rourke of sending campaign funds to the migrant caravan approaching the US/Mexico border.
Both Politifact and Snopes found evidence proving this claim to be false; the right-leaning blog Patriot Journal shared an article about Beto's "involvement" with the caravan, but Facebook took down the post as part of new efforts to combat disinformation. The claims from the article can be traced back to a November 1 video by Project Veritas, an organization created by James O'Keefe, a conservative Youtuber with a known, ongoing history of going undercover in "sting operations" to record and subsequently manipulate footage to put certain liberal individuals or ideas in a bad light. According to Politifact, the organization "creates undercover sting videos of its targets, including media organizations." In one such tweet by O'Keefe, the Youtuber followed O'Rourke's campaign team asking about the usage of campaign funds in relation to the caravan, purportedly catching staffers and the campaign managers hiding or ignoring the caravan question.
While the campaign did not send any funds directly to the migrant caravan, both fact-checking websites found that campaign staffers "took it upon themselves" to send some funds as donations to Annunciation House, a non-profit in El Paso, Texas working to aid the migrants at the border with supplies. According to the Federal Election Commission, sending donations from campaign funds is legal as long as the donor does not receive any compensation. According to these regulations and research, both Politifact and Snopes found that O'Rourke's campaign funds were in fact not "illegally" distributed to the migrant caravan, and the claims purported on Twitter and right-leaning media sources were false.
These are just a few examples of the false claims that have spread and clouded social media, on a critical and tightly contested U.S. Senate race. As we navigate between fact and fiction — especially on topics as important as a senate race — the the work of fact-checkers and organizations combating disinformation is all the more crucial.
Be on the lookout for more investigations by the Human Rights Center's Disinformation Team to help combat the disinformation surrounding political discourse and human rights.
The Human Rights Investigations Lab is a part of the Human Rights Center, UC Berkeley School of Law. To learn more about HRC or the Lab, click here.